Tent and Nutrition Grow Kit: Large

Larger Grow Area for a Cost-Effective Price
High Yield Indoor Grow Solution Made Easy.
---
14-18 Weeks*
*From the time of ordering to harvest – approximate timings.
---
Discreet Packaging
Every order comes shipping in discreet, stealth packaging.
Legal World Wide
Our grow kits are legal in all of the US and across the globe.
Save Up
to 65%
Verses hydroponic store pricing
Grow Tent
48″ x 48″ x 80″ inches durable and reflective 1680D Mylar interior is one of the MOST DURABLE and REFLECTIVE tents on the market!

3-9 Times thicker than our competitors!

Our 25 mm steel support frames can hold up to 300 pounds!

Our heavy-duty, hand-stitched zippers come with a light-blocking double flap enclosure and are 98% light reflective to keep light and odors inside the tent.

Multiple viewports for monitoring your plants with ease.

3 ventilation ports for our carbon filtration system

Removable interior tray to help keep the home clean of debris and water

Hanging bag holds all your hardware in one place!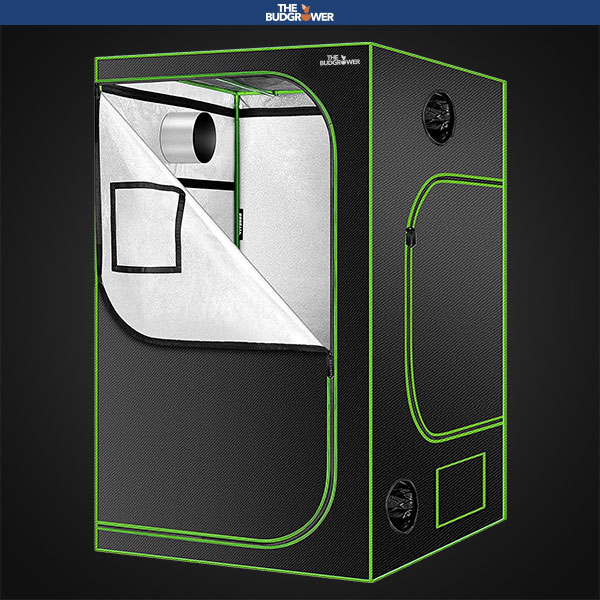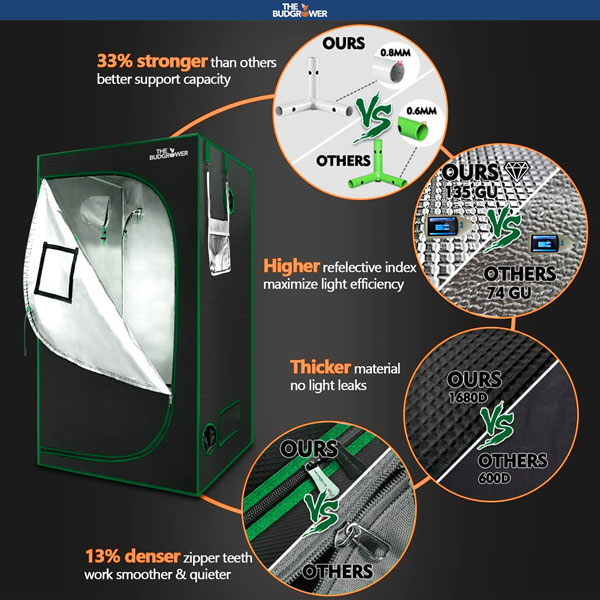 WHY BUY FROM US
Don't fall for the knock-off brands. We are seasoned veterans with grow kit systems designed from industry-leading brands and we offer you dedicated grow support along your harvesting journey.
EASY:

Our products make growing easy and fun for years to come

INTELLIGENT:

Our systems and technology cultivate smarter horticulture

EMPOWERING:

We do everything we can to support indoor growing communities to thrive

PREMIUM QUALITY:

Our products will last for 100's of growing cycles if looked after properly. This fact alone will save you money for many years to come.

ENERGY-EFFICIENT:

9-12 plants

DURABLE AND STURDY:

Tear-proof and waterproof and hold 250LBs

EASY INSTALLATION:

To assemble it takes 1 person up to 15-30 min


HUMAN-CENTERED DESIGN:

Multi-size vents available for different ventilation systems

WARRANTY:

1-Year Full Warranty Guarantee
SOILS/GROWING MIX SPECS
Rapid Rooter Plugs
Hydroponics Rapid Rooter plugs are fortified with general hydroponic micronutrients for abundant root growth. The optimal air-to-water ratio within the plug matrix results in explosive early root growth.
Cali Super Soil Concentrate
Premium 100% Organic Super Soil finely ground concentrate, 18+ Nutrient Blend – No Need for Nutrients or Plant Food Ever.
Cali Super Soil Nutrient Shot
To boost a show with a single 100% organic nutrient Grow shot – Deliver all the nutrients need to enhance your Grow in a simple single application.
Grow Pots
Our 5-gallon grow pots allow for optimal soil measurements. The cloth pot is not only durable but are machine wash safe and reusable.
WHY GO WITH OUR BRAND
Cali Soil is All-Organic Soil is designed on a molecular level to be the perfect growing medium. We also include Fox Farm and Rapid Rooter plugs, all the best soils out there to get you started.
PREMIUM:

Plant food

QUALITY:

Finest potting soil greenhouse tested

CONSISTENCY:

Supports explosive plant growth

SUPERIOR INGREDIENTS:

We source the highest-quality nutrients mother earth has to offer.
Which Home Grow Kit is
Right for You?
Compare our tents to see which one is best for you.
*From the time of ordering to harvest – approximate timings.
TIPS FROM OUR GROW LIBRARY
Read helpful tips from The Bud Growers' Grow Library, for the Do's and Don'ts of growing at home.
SEE ALL THE TIPS
NEXT STEPS
UNBOXING INSTALLATION GUIDE
You truly have at your finger-tips ALL of the things you need to establish a healthy, productive in-home grow setup. Only things that are missing are the water and a seed – both are easy to obtain.*The Bud Growers kit includes everything you could possibly need for a successful 100% organ grow. Opening your kit may feel a little intimating but the reality is it is very easy to set up and once you're underway your grow-kit will give you years of successful fun growing. The below will show you how to get set-up and offer some basic advice on the growing process. It's time to start growing!
MORE TIPS